Make your concentrates with your own weed! CannaPete.com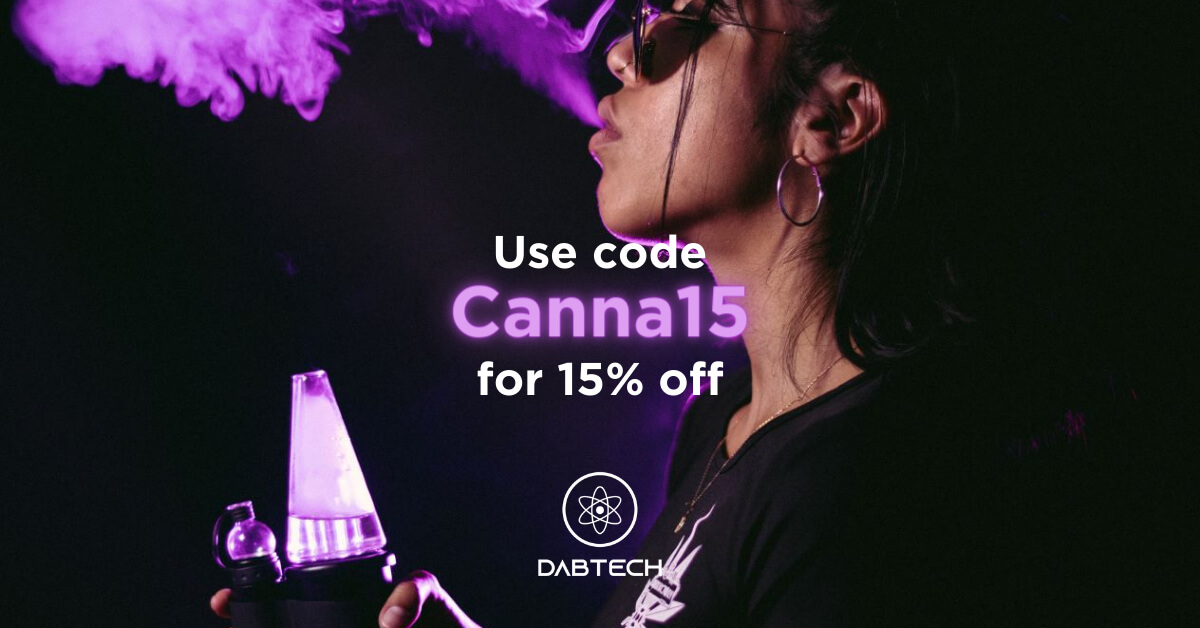 Dabbing is a cosmic subculture of the cannabis world complete with its own slang and otherworldly rigs, devices, bangers, and tools. But while the genre is growing, it's been a slow burn due to the opacity of the culture, potency of the products, and a general lack of public understanding.
Thanks to an explosion of tech-forward dab devices like the Puffco Peak — which replaced the daunting torch set up with a push of a button — times have surely changed. Dabbing has never been easier, and there have never been more dabbing products to choose from.
Spoiler alert: most of them suck.
In the hopes of helping new dabbing enthusiasts and current dabbers navigate this gooey gumdrop land where nothing is familiar and everything gets you high, I've rounded up the best of the best in every genre, regardless of what may know about this polarizing method of intake.
Between my years of humble servitude as a device reviewer at Weedmaps, my tenure as a product columnist at Merry Jane, and doing hundreds of reviews on my IG product review show Hot Tokes, I've tried a lot of the dabbing products on the market — a lot of them.
To form this list, I meticulously experienced every product and fielded additional input from other cannabis journalists, famous stoners, and dabbing experts. The result is a highly comprehensive list of great products featuring rigs, devices, and ancillary gear for every level.
Skip to the section that makes the most sense for you:
The best rigs for casual dabbers
The best rigs for frequent dabbers
Or keep scrolling to explore all the best rigs you can get right now.
Category 1: Beginner-friendly dab rigs
Gina Coleman/Weedmaps
Here, I examine some great options for beginning dabbers who are looking for inexpensive rig kits, electronic dab devices that take the torch out of the equation, and dab straws for those not wanting to commit to a full setup.
The best dab rigs for $100 or less
Affordable kits for newbies looking to dip into the dab pool. Keep in mind that at this price point, the glass isn't going to be the highest quality, so I found options that hit well, weren't too rickety, and came with everything you would need to get started — minus cannabis concentrates, of course.
Best: Chief Mini Dab Rig Kit by Goody Glass
In terms of affordability, quality, and dab-readiness, the Chief Mini Dab Rig Kit by Goody Glass checked every box I had. It hits like a much larger and expensive setup, even though it's priced at a wildly low $50 (on sale from $75).
The smoke can be uncomfortably hot with smaller rigs, but this one features a showerhead percolator and in-cycler that aerates the smoke thoroughly, delivering smooth hits every time.
Price: $51.99
Runner-up: Cyrus Spinner Quartz Kit by Empire Smokes
Empire Smokes has a great selection of mid-range glass rigs to choose from, no matter your style. I chose the Cyrus Spinner Quartz Kit as the runner-up because it's priced right at $100 with a considerable increase in quality than other options of similar cost.
The kit comes with the rig, banger, carp cab, and quartz beads to keep the oil moving.
Price: $100
The best electronic dab rigs
Electronic dab rigs — also called e-rigs — are a fantastic option for new consumers looking to bypass the high temperatures and open flames of a traditional dab setup. Discreet, simple, and effective, here are the best e-rigs on the market right now.
Best: Peak Pro by Puffco
I believe the Peak Pro by Puffco is the best e-rig of all time. When the original Peak dropped in 2018, it revolutionized the market in terms of design, function, and simplicity. Since then, the device keeps getting better, with its current iteration, the Peak Pro, being the best one yet.
It's fantastic for beginners because it simplifies the complex act of dabbing and turns it into something even the most stoned newbie could understand without sacrificing potency.
I often find the main issue with dabbing devices is that they don't deliver hits of the same viscosity and potency that traditional dabs do. With its 3D chamber, the Peak Pro heats oil evenly on all sides of the bowl, delivering rich hits every time.
Price: $399.99
Runner-up: DAAB by Ispire
Ispire has been hot on the market in the past year or so, and I feel that the DAAB device is worth including because of its ability to do "cold start" and "hot start" dabs, as well as the function of its all-glass airflow path which delivers clean, tasty hits.
On the downside, I feel the device is a little rickety, but it works well and is overall a fantastic deal for $250, which falls on the low-end for a device of its ability.
Price: $249.99
The best dab straws
Dab straws are electric straws that vaporize extracts — they're a great and affordable option for people who want to dabble in electronic concentrate consumption without breaking the bank.
Best: Huni Badger by Nectar Collector
Nectar Collector is the OG in this space. Before cannabis was even legal, it produced high-quality products that set the bar for dabbing consumption.
The Huni Badger is one of my favorite dabbing devices ever, and the name says it all. It's indestructible, intensely effective, and just feels right when you use it. Everything about this piece is heavy-duty, in stark opposition to the janky little trinkets that so many brands churn out.
This dab straw heats in 10 seconds and tears through whatever you throw at it, ripping high-quality rig-level dabs wherever you are. The only downside is the removable battery pack you have to charge separately, but it's worth it.
Price: $159.99
Runner-up: Dipper by Dip Devices
The Dipper by Dip Devices is a good option for newbies since it combines two devices into one and comes in at just under $100. Half dab pen and half dab straw, it's durable enough to go on the road and works well for casual use.
I've had mine for years, and the one time I experienced a technical issue, the online support team was fantastic in resolving it. Tech support is important in this genre, as glitches can be common in this world of devices that are created and developed so rapidly.
Price: $99.99
Category 2: The best rigs for casual dabbers
These next products are for the casual dabbers who are familiar with how rigs work, comfortable with the potency of hash highs, and ready to up their game with better rigs, portable devices, and ancillary products that can take them from dab middery to dab mastery.
At-home rigs
Here are some solid rigs for the casual dabber looking to have a permanent at-home setup.
Best: Heavy Duty Riggler by Higher Standards
I've been liking Higher Standards' bongs lately, so I was hype to try the Heavy Duty Riggler, and it did not disappoint. It's heavy, meaning it's pet-proof and spill-proof.
I also love how it diffuses smoke into a fine effervescence that feels dense with flavor and almost alive. This piece comes with a quartz banger and a carb cap, so it's pretty much ready to go out the gate.
Price: $150
Runner-up: Opal Marble Recycler Dab Rig by Pulsar
Pulsar has a great selection of readily available rigs, and this one is one of its best. The Opal Marble Recycler made the list because of its sleek design that's suited for anyone and the fact that it rips strong and seamlessly, making it a perfect ceremonious option if you're feeling a little fancy.
Price: $139.99
Portable dab rigs
For those who like dabbing enough to take their hash high on the road, trail, or anywhere that would be better experienced high as hell, check out these portable setups.
Best: G Pen Roam
Part giant vape pen, part portable e-rig, the G Pen Roam is an innovative device that's a mainstay in my arsenal of weedy adventure gear. It comes with water diffusion, hits like a champ, and can withstand a fall down a smallish cliff with only a minor ding (I can attest to this as it happened last summer).
What sets this piece apart is the water diffusion element you almost never see in portable devices. The vial of water the smoke passes through keeps things cool and clean, while the battery powers major hits far beyond what most portable vape-like devices produce. The bigger the battery, the better the hit.
Most pens and devices simply can't muster the power to vaporize concentrates at the temperature and duration they need in order to produce fat clouds. The Roam crushes every category and frankly is one of my favorite devices in the past five years.
Price: $199.95
Runner-up: The Very Happy Dab Kit
I'm including this kit as an alternative to the electronic devices that dominate this space since some people are analog dab purists, which is to be respected.
The Very Happy Dab Kit is an epic little kit that comes with everything you need to take a traditional dab wherever you go. The nectar-collector-style glass dab straw comes with a tree percolator that works well despite the absence of water, making it a good adventure companion.
Price: $70
Supporting devices
Supporting devices work in tandem with traditional rigs and take the guesswork out of finding the perfect temperature to drop concentrates in the banger — which matters a lot when it comes to preserving flavor and high. The temperature of your dab should not be overlooked since different consistencies of extracts require different temperatures, and different people prefer different things.
When temperatures are too high, you eviscerate the chemical compounds that dictate taste and effect, and it's also harsh on your lungs. These supporting devices are great for casual to pro consumers who want to get the most out of their dabbing experience.
Best: Dab Rite
The Dab Rite allows you to customize your dab like an electronic setup, but you're measuring that temperature IRL.
Of the options on the market, my favorite is this one. The product is high-quality, is made for stoners by stoners, and is simple enough for anyone to figure out.
Price: $249
Runner-up: Terp Timer by Octave
The Terp Timer is an epic thermometer option with a sleek design, similar function, and a battery that lasts up to three months per charge.
Price: $126.65
Category 3: Products for the frequent dabber
This final category is geared toward people who love to dab, take it seriously, and likely engage with dabbing's subculture as much as they do the dabs themselves.
Every super dabber has a wild opinion about their rigs, devices, and hash, so if you're a frequent dabber and you're reading this, I'm not telling you anything you don't already know, but these are my recommendations.
Modular lab devices
Modular dab devices are atomizers designed to fit into glass so you can smoke hash anywhere and out of anything. If you're into this genre, you're deep in the game. Here are the best ones.
Best: Puffco Proxy
I can't say enough good things about the new Puffco Proxy modular vaporizer. This device is basically a rubber-clad, fully portable version of the 3D chamber atomizer found in the Peak Pro. And while most modular devices are designed to fit into pre-existing glass pieces, the Proxy requires glass to be designed around it, inviting a world of artist collaborations.
This device comes with a sherlock pipe and hits incredibly well despite the absence of water. I even preferred the water-less smoking experience as the flavor was clearer and more concentrated than that of water filtration devices.
If I could tell you to buy any product on this list first, it would be this one.
Price: $299.99
Runner-up: G Pen Connect
The G Pen Connect is designed to fit onto most bongs and other preexisting glass setups. Personally, I don't like smoking concentrates out of a flower bong unless it's perfectly clean. Flower resin has a terrible taste that often destroys the experience of tasting the concentrate, but if you have super clean glass, then this little modular add-on is a great way to dab out of anything.
It doesn't hit as hard as the Proxy, but it's still pretty cool.
Price: $199.95
Next-level setups
Our final genre is reserved for Gandalf-level dab wizardry, and unless dabbing is your whole fucking life, then don't even worry about these. But if you are teetering on the edge of losing your mind down a rabbit hole of hash consumption, then these pieces are great vehicles to get you there.
Once you experience devices on this level, you'll never go back.
Best: Reflux by Indux Labs
This is the mac daddy of all vaporizing systems, merging tech and science at slow speeds and low temperatures. While most vaporizing systems use a hot plate to vaporize concentrates — which can often eviscerate the chemical compounds that get you high — the Reflux heats concentrates slowly, building temperature in order to systematically vaporize every chemical compound in the substance at its perfect boiling point. There is truly no way to get more out of your concentrates than with this system.
It's hard to describe how much better of a setup this is for those who are really into dabbing, but the hefty price tag, which starts around $1,500 and goes up from there, should be an indicator. The Reflux redefines the concept of full-spectrum consumption and should be on bucket lists for all super stoners.
Price: $2,000
Runner-up: FlowerPot by New Vape
The FlowerPot by New Vape is a unique and well-manufactured system that allows consumers to vaporize flower and concentrates at the same time.
Sold in a variety of bundles, the aim of this system is full customization that delivers a kind of vaporized bong/concentrate hit you've never experienced before. Depending on the setup you choose, the price is high, but the quality of the experience makes it worth every penny.
Price: $1,035
Bonus: Custom dab rigs
To round out the list, here are a few incredible glass rig artists to break your mind and your wallet wide open.
Most of these pieces are one-of-a-kind works, and the artists are often available for custom pieces.
Kyle DewitEtai RahmilBlue Grass GlassHenri ChetelDarby HolmMothership GlassGrass Blower
Bottom line
Half the fun of enjoying your new dab rig is using it to explore the wide world of concentrates. These days, you can enjoy a delicious array of meticulously extracted, high-quality rosins, resins, diamonds, shatters, butters, badders, and more. Download the Weedmaps app to find the best cannabis concentrates near you.
The post Weedmaps' ultimate guide to the best dab rigs of 2022 appeared first on Weedmaps News.